As you may have heard, Apple just released the iPod U2 Special Edition, a beautifully black piece of hardware containing most of U2's hits, old and new. Unknown to many, the iPod U2 SE is just one of many upcoming special edition releases — the iPod DF SE and the iPod kottke.org SE are some of the popular ones. And then this: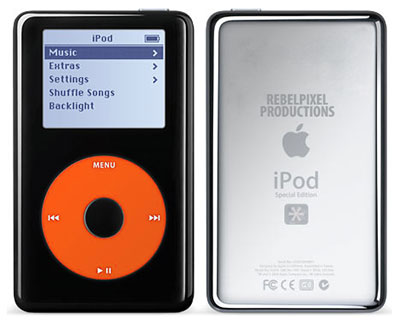 Yes, I present to you the iPod Rebelpixel Productions Special Edition. At just $349, you get 20 GB of space for your music collection, and you get an ultra–cool orange–colored pair of earbuds in addition to the signature white ones. Samplers of this year's OPM hits will also be included, as well as Nanet's acoustic cover of Tattooed On My Mind. But the highlight of this limited edition novelty is the collection of originals and covers of my band pop ratio, containing tracks all the way from 1995! Leave a comment for advanced orders, or you may head to my online store to place a reservation.
[ Idea blatantly copied from John Gruber and Jason Kottke. Thanks guys!

]