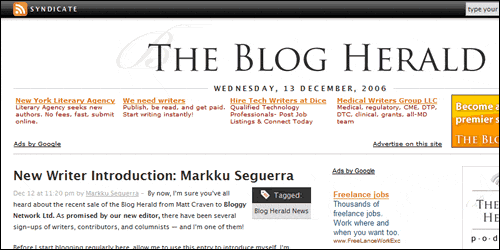 Yes, I'm now a problogger at the Blog Herald! Abe broke the news out yesterday right after I got my brief introduction published.
Just a short story: When I heard that Abe was taking over and will be doing editorial duties for the new TBH owners, I was very surprised at the turn of events. Finally, a Filipino blogger taking a lead position in a prominent international weblog. I had no inkling that I could also be part of this sweet deal. When I got Abe's SMS inviting me to write for TBH, I quickly confirmed without hesitation. This is just too good to pass up.
In the coming days, I should be writing regularly there on the various topics the Blog Herald has expertly covered in the past. Should. Hopefully as well, having myself write regularly for an external resource would also make the updates here more frequent. Hopefully.