You've got your housemates ready. You have a wonderful program planned. You market the launching well ahead, and very well at that. The female hosts are now all slim and sexy for the launch night. (Bianca's abs were awesome!) You have the "6-housemates-only" gimmick to get people to ask questions. You even have a hottie of a hunk for a housemate. (Okay, that sounded gay.) And you have a new layout for the new season. And then you get this: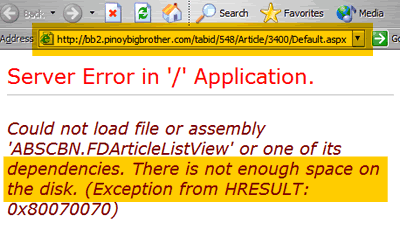 All this while trying to sell online subscriptions to Filipinos trapped in some foreign land trying to earn a decent living. Was the surge in traffic a few hours after the launch really that bad (or good in a traffic growth perspective)? Did the admin forget to empty cleanup the server? Did the server refuse to cooperate? Was the site hacked? Or should they be using PHP instead? 😉
If I knew I wouldn't be asking, really! Now this makes my blog a legitimate web design weblog. I think that's under the "Technology" category in the 2007 Philippine Blog Awards. Also known as the "PBA," and since we only consider Filipino blogs, we might as well call it the "2007 PBA All–Filipino Cup," which Ginebra just won, so all this award brouhaha is for naught since the Finals was over in six games.
Did you know San Miguel was leading the series 2–0 before losing the title in four straight games? Only three teams have done that before in the PBA's storied history. One of them was a Coca Cola squad under Chot Reyes, who also coached the Dondon Hontiveros–Danny Seigle–Lordy Tugade–powered (imagine that firepower? 20+ from any two, on any night, theoretically) beermen. And he will be heading our national team program, to which I do not object to without any sarcasm. But the lost was quite disappointing, and that's putting it nicely. He's the best coach for the job, unless Ron Jacobs was still in active service, or Baby Dalupan.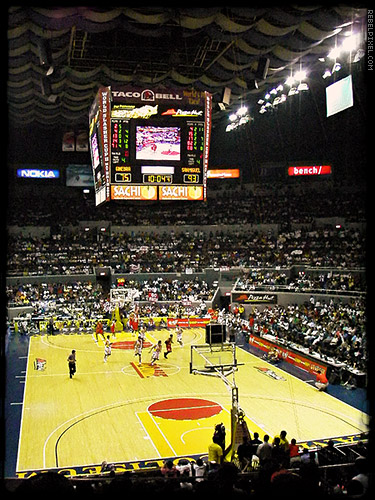 (Note to self: Stop writing too many blog entries in one night after downing two bottles of Red Bull in too short a time, it's not good for the brain. It could make you write too many parenthetical notes.)
(Another note: After all this mad blogging in one night, be sure to finish the camera hands–on or Upper & Eva will be trying the Olympus mju 725sw's shockproof feature on your head.)
Now seriously, on the topic of the error on PBB2's site, I think the sudden surge in traffic was causing problems. This is likely related to their projections in traffic growth based on last season's run, and they could've been too conservative expecting much less visitors. (Yes I'm doing too much PBB2 blogging for tonight.)
(Really last note: Stop all the parenthical inserts, you're beginning to look like a crazy fan of Amanda's blog.)
On the San Miguel–Ginebra All–Filipino Finals, I thought San Miguel was a shoo–in but was expecting some "exciting" games so Ginebra wouldn't look so bad; now I think they really deserved to be champions by doing it in fashion, four consecutive convincing wins.
Chot Reyes is definitely the best coach for our national basketball team. No other active Filipino coach can do the job effectively. Certainly not Jong Uichico or any of the San Miguel–backed strategists. But they could pool all coaching resources to make one solid basketball philosophy — to produce one fine squad of Filipino dribblers.
Lastly, I did not influence you on the Philippine Blog Awards thingie, I did not subconsciously suggest that you nominate me for all the categories. I just didn't. Though I could write an entry for every category in the coming days, that wouldn't be right, right? Wrong? 😉