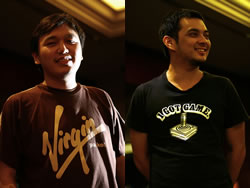 Sasha had this *brilliant* idea of featuring me and the shirt I was wearing last Thursday over at Style Manila. Jayvee is also featured with his "I got game" shirt, and he even makes it to B5media's Tops 2 Bottoms in an entry on catchphrase clothing.
This is the second time I'm mentioned in a fashion blog, who would've thought? 😉
No, it's not really something I'm proud of.