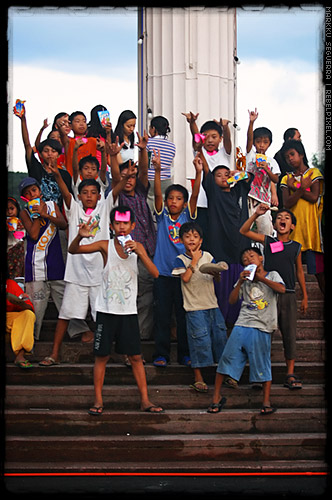 You know Christmas is almost here when you can hardly rise in the morning with the sleep–inducing cold weather, like yesterday. Combined the with rain, it feels like everyone is excused to take a short nap every few hours. Or minutes. Not that I'm exactly required to stay awake all day, unlike most corporate zombies, but I do need to get up and eat and do some work. Really.
Here in our house, my sister couldn't stop playing Christmas songs after I "found" some of our favorite Christmas songs back in our childhood days. For good measure, I keep them in my iPod too, so I can feel the season's spirit anywhere and anytime I want, but only without the financial abundance. I can feel like a kid again, at least for a few songs' length.
Here's five Christmas albums in my current rotation:
Christmas in our Hearts (Jose Mari Chan)
Every Filipino knows this, especially those born a bit before or after me. Though cheesy to some, this is still one of the better pinoy Christmas albums out there.
The Jackson 5 Christmas Album (Jackson 5)
Michael Jackson when he was still black, and male. 😉 A groovy take on typical Christmas songs, plus their own memorable tracks.
White Christmas (Bing Crosby)
This one dates back to the 1940's, yet you'll still enjoy it every year, no matter how cheesy–classic it may sound.
Christmas in the Stars (Various Artists)
This is a personal favorite. My dad had a tape of this when CDs were yet to be used, and features C3PO, R2D2, and Chewbacca singing funny Christmas tunes. Some say the whole album sounds stupid, but to me it simply spells fun. 🙂
Fruitcake (Easerheads)
One of the most ambitious pinoy Christmas album ever made, with a hardcover book accompanying it. This one shows the creative genius of the Eraserheads and the people behind them, how they made their own story of Christmas. If you haven't listened to this before, don't miss it now.
As you can see, I prefer to listen to complete albums instead of songs or a playlist of multiple artists. I just grew up listening to music this way, like how you would with a Sony Walkman and tapes you shouldn't rewind or forward because it's gonna ruin your player. So you kept a ballpen always handy, spinning the tape if you had to get to your favorite song. Remember that? 😉
So what are you listening to this Christmas?