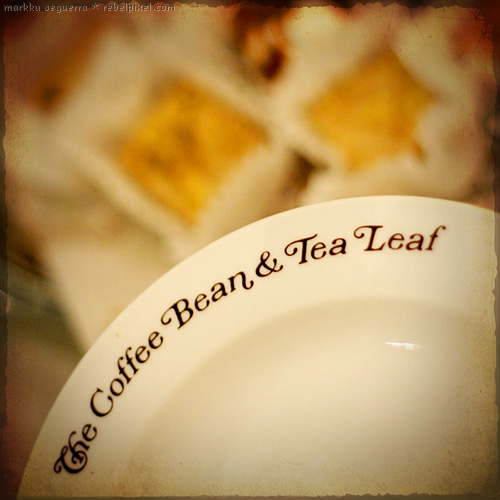 Once in a while, we desperately need to practice our brain's creative side just to make sure it works as expected when needed. Not many of us are actually blessed with a day job that pushes the limits of our creative bounds, which is probably why most of us turn to photography and/or writing for our regular exercise. When I think about it now, this best explains the growth of blogging and self–publishing in general — it's because we rarely get the chance to be "creative" in typical 9–to–6 desk jobs.
It was a welcome surprise for us local bloggers when The Coffee Bean & Tea Leaf announced a creative workshop in photogaphy, creative writing, and videography. It wasn't just your typical blogger event — it was an opportunity to learn from veterans in these creative fields while doing the things we are passionate about.
Hana and I chose to join the Jay Tablante's photography talk despite suggestions that we should be in the other talks since we've been shooting for a while now. Dean Alfar mentoring creative writing was very inviting, I've heard him speak in the second iBlog and have been looking forward to joining his talks ever since. I'm sure Mike Cabardo on videography would've also been a good learning experience, but the chance to hear from a fellow photographer who has been doing this professionally for several years now is just too good to pass up.
Jay was very engaging in his talk and shared a lot about his creative process and the professional side of photography. Though I'm sure the others would've wanted to hear him discuss technique and the technical side of the art, there just wasn't enough time if he tried. Besides, a glimpse into his process will be more helpful in the long run as a photographer grows. Technique can be acquired through reading books and websites anyway, as long as you don't neglect to practice all the technical know–how you've acquired.
The photography talk concluded with a short photography exercise; I was lucky enough to have a photo catch Jay's attention and it was cited among the entries judged notable for that night. It was a photo of CBTL's Nikki who never fails to strike a pose when a camera's pointed her way. 😉 Not totally off–topic, yesterday was her birthday (Happy birthday Nikki!) which may explain the luck we had for the said photo.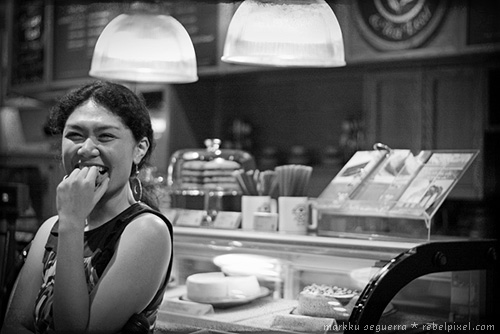 Kudos to the Coffee Bean & Tea Leaf for giving us this welcome creative exercise for the community! And if you weren't at the the workshop, you can still have some creative practice by sharing your CBTL story and have a chance to go to Hollywood for free!