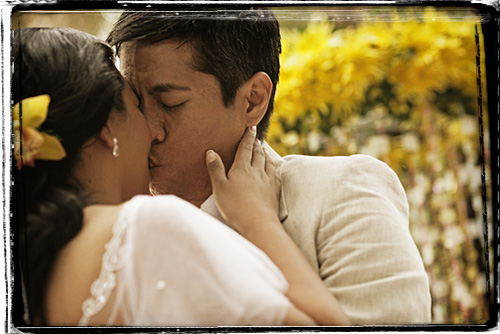 In the early hours of dawn on the day of the wedding, it was raining so hard that it felt almost impossible for the weather to clear up. It was going to be Mimi & Karl's Boracay wedding in the afternoon but with such terribly unpredictable showers, we were afraid it was gonna be far from perfect, not exactly as they planned it to be. But then again, maybe the rain was God's sign, maybe it was God's blessings.
There's this myth that when a couple marries in Boracay, it rains if they've been bad people.
By the time we got up, the rain was already gone. It wasn't as sunny as we always envision Boracay, but the clouds somehow cleared up just enough for it to be considered a sunny day. After lunch, you'd never know it rained so hard in the morning if you slept through the time the rain pounded the fine white sand.
And then let's fast track to the afternoon ceremony. It was simply the most perfect wedding I've ever been to. Every single detail was spot on, and more importantly, everyone involved was in high spirits. As Mimi walked down the aisle, as everyone scrambled for photosa and despite all the activity, you can't help but still hear Johnoy's wonderful rendition of U2's "All I Want Is You." The whole ceremony was deeply emotional that by the time Mimi and Karl kissed for the first time as husband and wife, we were all teary eyed. And Karl was crying like a girl, as Jaemark puts it. 😉
The sunset walk from the ceremony venue (the Elizalde's beachfront property) to the reception at Discovery Shores was a brief but fun one. The mood was festive and everyone just couldn't stop smiling. The whole reception setup was simply amazing, just as good as the ceremony itself.
By the end of the night, Mimi & Karl's wedding was better spelled P-E-R-F-E-C-T-I-O-N.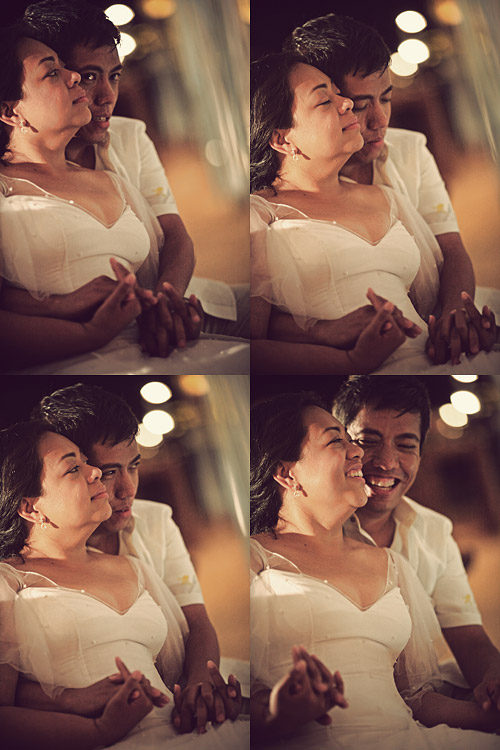 P.S. I officially hate them for using "Baby I Love Your Way" and "All I Want Is You" because now Hana and I need to find something else just as beautiful and meaningful. 😉 Oh, I'm embedding Threelogy's excellent onsite video from the wedding, I'm sure they wouldn't mind. 😉