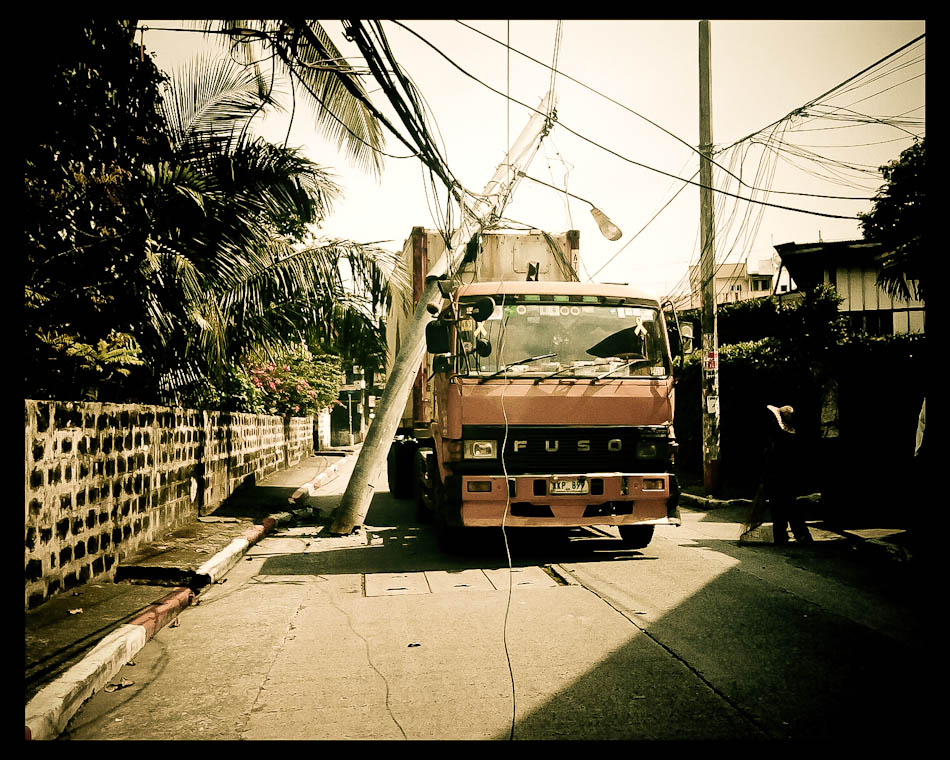 The other weekend, my mom awakened me because some stupid trailer truck driver hit a bunch of telephone and cable TV wires just outside our house, and managed to take down the whole electric post with it. Look at the image, it's actually more stupid than it looks.
It was just before lunchtime. The truck was supposedly on its way to the factory/warehouse that produces "Gina" canned juice drinks, which happens to be just down the road from us. He arrived at the wrong side on the road, so he had to take a U-turn at the corner after our house. He was in a hurry, and just as we've all been told when we were little kids, stupid things happen when you do things hastily. He assumed that since he cleared the cables the first time he passed, there wouldn't be a problem on the way back.
He was very wrong. And because he was moving quite fast, the truck had enough momentum that the cables pulled so much, it pulled the concrete post from the ground and broke it in two. The Meralco crewmen came an hour or so after the incident and promptly cut power to our block. While they were trying to sort everything out, it rained so hard that it flooded and they had to stop working. The truck was finally removed late in the afternoon and power was restored just before dinner time.
It was then that we discovered that the accident also affected our Sky Broadband cable internet connection, which meant the worst emptiness you could ever get. Seriously though, I knew it wasn't gonna be easy. It was Saturday, and we called Sky Broadband support the following day. They only got to fix it two days after we called, on Tuesday afternoon.
Everything would've been fine by then. Unfortunately a week later, PLDT decided to do their own servicing of their cables that could've been affected by the stupid truck. Inadvertently, and surely carelessly, they fucked up and ruined our Sky Broadband connection while doing their work. Since Tuesday, we've had no proper broadband again. We called right away for service but apparently, Sky Broadband Support advises you to monitor the problem for 24 hours before they'd actually consider it a real problem. During that call, they told us that if ever there really is a problem, Thursday's the earliest they can address it. So I tried talking to them on twitter, hoping for better service. @SKYserves then told me they can only send someone to fix it on Friday. So much for better support on twitter.
During all these, I've had to make do with Globe's SuperSurf service at 50 pesos a day. Globe's service is just bearable during the day, but good enough in the wee hours of the morning. Unfortunately, they still do the questionable act of toying with DNS and code injection, modifying the pages they serve. Yes, the HTML served to your browser is not the same HTML as that from the host server. It appears they're doing this to serve heavily–compressed cached images to save on bandwidth, which explains why suddenly all photos look like crap when using their HSDPA/3G service. And since they're using code injection, who knows what can happen when a hacker or even just an unhappy admin decides to play with users' passwords.
Now when life throws you lemons, what should you do?
(This post is not brought to you by Gina canned juice drinks, nor Meralco, nor PLDT, and definitely not SKY Broadband. Though I posted this using Globe's service, I really wish they'd simply stop doing code injection just to save on bandwidth. I'd also like to see images as they were uploaded, please. And just to make it clear, I am not an advocate of bad mouthing other people or entities on blogs, but if you have to, make sure you stick to the truth without sensationalism or any of the showbiz crap that a lot of people on twitter are into these days. Whew, that sentence was long!)