A lot of people would say, "imitation is the greatest form of flattery." And it sounds really great, knowing that people try to emulate you and your work. However, there are times when you end up grabbing too much of someone else's ideas, and you don't realize you're already shouting another person's creed.
In web design, the best get imitated. A lot. Look at Zeldman. Only God knows how many aspiring designers do File > Save Page As... on his site, every single day. If you go through Dave Shea's CSS Zen Garden, and then browse through Scriv's CSS Vault, you know that design ideas really do get around. But almost everyone knows how to expound inspirations, and somehow make it their own.
A few days ago, I got an email from someone in Malaysia asking if he could use the CSS producing the dots–and–arrows link styling on this site. But when I visited his site, it turns out he was already using them—colors, graphics, hover behavior and all. I promptly replied asking that he can use my work as an inspiration, but to please use different graphics and colors. And change them he did—he tinted them with another color.
And as I scanned around his site, it turns out this guy is one big fan of mine. Not that I'm good, maybe he's just lazy and decided to copy a few details from a few good sites, mine included. I was thinking, "maybe I'm famous enough now so I'll just let it pass." But I changed my mind.
First of all, go read my about section, specifically the second paragraph of that page. Done? Now read this. I know my about section is now outdated, but that's not the point, right? So, can he really do that? The following graphic illustrates my first point.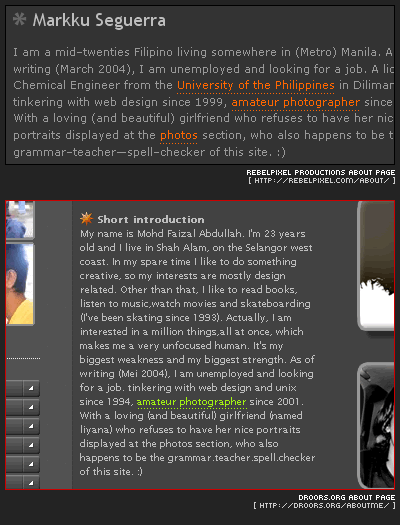 And we're just getting started. A few months ago, when I felt all in–love and mushy, I posted lyrics of Ric Segreto's Loving You, with matching dedication. Of course it's pretty clear that I don't own the copyright to the words of the song, but do you really think he'd think of the same song one day after I posted them on my weblog? What are the chances that he knows a song made popular only here in the Philippines, and many years ago at that?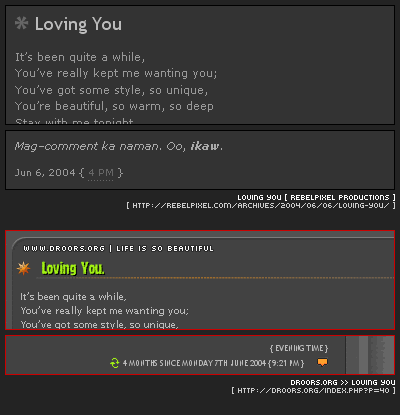 Now let's try diving deeper. Let's say, stylesheet deep. rev2.css is my stylesheet, and kinki.css is his. I have another graphic below, with brief snippets of code. Similarities? Or copy–and–paste magic? Look at his comment form in the entry pages—familiar, right? And then my style rules for the increasing/decreasing textarea (made famous by Dunstan), what is it doing in his code when it's not used at all?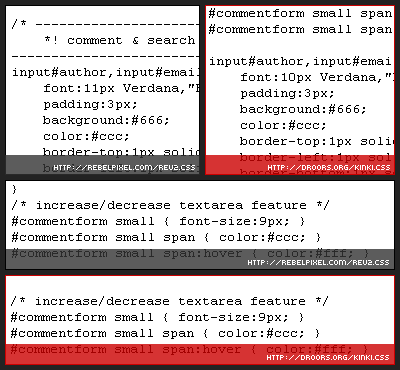 It turns out, he's also into photography. He even uses iPAP, and wrote to let us know. Too bad he changed the generator meta tag. But that code is GPL, so maybe I should let it pass.
I know that maybe in a few hours I'll realize I'm overreacting, and we all go through this stage. Yes, I do save the best pages and study their code. But never to the point of uploading them to a webserver, and use it in a public environment, like in a weblog. Personally, I'm more offended about the grossly reused content than the design aspect of things. My friend, learn from this experience and move on. You are way much better than that.