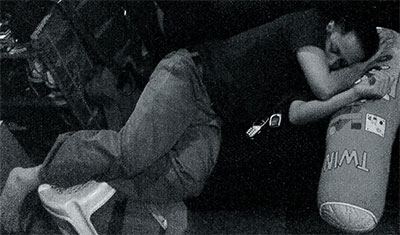 This entry was written by Jonas, guess writing for Markku to introduce the songs Confused and Dito Ba.
Here are the latest songs that Pop Ratio has to offer, fresh off the grill and onto your dining table…
We've gone 3-piece again, seeing as Don has again managed not to arrive (as opposed to just not arriving on time… but oh well, that's Don). And so due to this small technical difficulty, I was relegated to playing rhythm guitar in one of the songs. Even though my fingers are stinging right now (as a result of several nights of furious song finishing topped off with a thousand rearrangements and a couple more takes…), I would say the finished product was well worth the effort (I just hope I can still say that tomorrow when I'm using my hand to stitch up a laceration wound on someone's head and my fingers can't respond properly)…
I finally managed to finish something of my own, that being the song Confused, and put it down on record (boy, I didn't think saying that could give such a rush). It could otherwise be described as a fool's love song, or something along that line. Don't ask me where i got the inspiration to finally make it… Markku has something new as well, in the short but sweet Dito Ba. We were having trouble trying to figure out how we were going to end it (as you might notice after listening to it), but we eventually did. If you ask me, both songs sound… well, totally different (flashes of Francis M, Hootie and the Blowfish, Rizal Underground and Sugarfree might come into mind). But still, they're really good. As in really good. And that's not just the pride of the songwriter that's talking.
Anyway, we do hope to come up with some more songs in the near future. And as Markku has been so wishing for the past few months, we're hoping to re-record these songs with better equipment (and probably somewhere else aside from the famed Studio B), and therefore, better results. If we could somehow drag every last one of our bandmates into one place at a single time that is (Carlo, umuwi ka na!!!)…
For now, rest assured that we will continue to try and come up with more songs of our own. And we do hope you keep on appreciating Pop Ratio music, and that of other OPM bands as well. Keep the music playing…