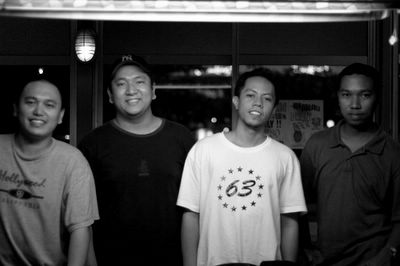 First of all, right click on the photo and save it. Why? Sooner or later you just might need it. With the current upswing in the local music scene, you just might be looking at the members of the next big thing. We have the songs, and yes we're big — physically. Hehe.
Yesterday morning, I was about to get off my ride when I heard a cover of the Eraserheads' "Superproxy," which I later found out through an officemate that it was part of a tribute album for the country's best ever alternative act. Francis M was doing the song, and judging from the artist listing, that could be the only song/artist combo that would be acceptable to any e-heads fan. For the other acts, I'm not sure how well they could give justice to the songs they intend to cover. If simply for doing e-heads covers, we should be part of that big tribute. 😉
Now let me get back to my band, Pop Ratio. You're only seeing 80% of it, since the other 20% is probably spreading the bird flu all over Hongkong right now. Hehehe. But on second thought, the "80%" figure is quite debatable if we base it on other terms like weight or looks, or sex appeal. By weight, it should be 90-10, and 10-90 if based on looks. Based on sex appeal, it's a 0-100 landslide in favor of "the bass player" who can pass off as a chinovela star — who just woke up from a bad sleep. Hehe.
By the time you read this line, you've broken my secret that I'm just desperately trying to write so I could write. Now I make even less sense. But back to the photo: what if we don't make it big? Then print the damn photo and keep it in your wallet, right under your ID. If something happens to you and you need medical attention, there's a big chance that the darn photo might just save your life. 😉
If you're still reading this part I'd be grateful if you'd leave a comment, I haven't heard from my readers for quite a while now.