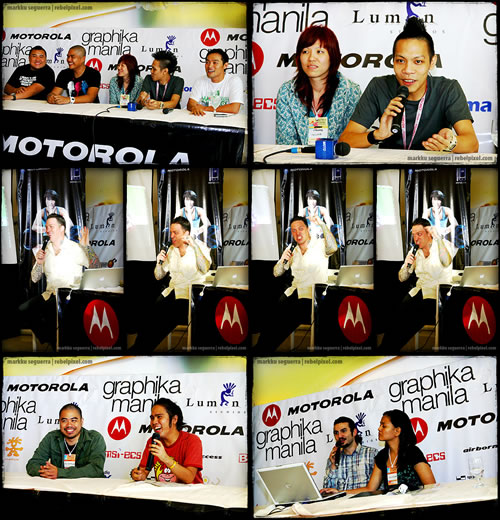 Last Saturday's Graphika Manila was a huge success with over 1,300 attendees. Being the first international multimedia design conference held here in the Philippines, interest across all related fields was high, especially with the presence of popular local outfits like Team Manila and Inksurge. More importantly (no offense to our local guys), the world–famous Joshua Davis was also here to talk about design and his recent work for Motorola in the MOTOKRZR campaign. I was lucky enough to get invited to the press conference courtesy of Jayvee and our friends at Ogilvy. This being the first presscon I was officially invited to, I didn't know what to do so I just took photos.
Our local designers were quick to agree that the multimedia design industry here in our country is still very much in its infancy, a disadvantage that we can put to good use since it provides us the room to grow in the direction we intend to grow into. Avid Liongoren and Nico Puertollano discussed the video/broadcast aspects of design and though they lauded the Filipino designer's skills, they raised a common trend among local designers — the absence of true identity.
When it was Joshua Davis's turn to speak, he initially appeared a bit uncomfortable with the unusually silent media people; little did he know that almost everyone in the room was awestruck with the presence of a design demigod right in front of them! He discussed his use of randomness and kaleidoscope ideas for his recent Motorola work and I was amazed how his art is greatly influenced by his use of programming. Like what Jayvee has also written, this man has basically created a unique design process that makes him his own programmer, artist and critic. His strength in programming has allowed him to accelerate the evolution of his unique designs. Using randomness and chaos within the confines of a predefined environment and set of parameters, he manages to produce designs that are truly unique that cannot be manually drawn/created in illustration/graphic programs. "Unless you're on crack," he says in jest.
Prompted by Avid's question on doing designs for clients as compared to designs for personal satisfaction, Joshua emphasized the need to "just continue doing what you do." He narrated how he used to work eight hours doing client work for a design house, then he'd go home and spend another eight hours just doing design on personal projects, the stuff he simply loves to do. After years of doing this, he eventually got paid work for the things he used to do on his personal time. I couldn't forget what he said in regarding that: "You might as well be hired for something that you love."