With the interest of my loyal readers in mind, I thought it would be nice to sustain curiosity and live up to their expectations by not writing about the Blogparteeh at all. An entire blog entry for this one event, that would be so atypical of my content. rebelpixel productions is characterized by the absence of content and substance, anything more would be a travesty! But my subscriber count is dwindling down and my PageRank is falling, so I better reclaim some of my traffic. Like as if I had a substantial figure before. 😉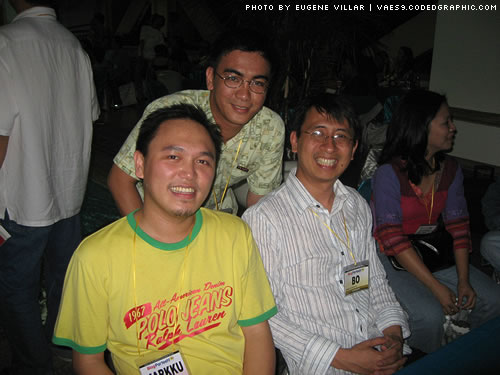 I finally met Bo Sanchez. Of all places, I never thought I'd get to know him in a blogger party, with wild kids prancing around like Sorsi and Mike, reportedly the local blogosphere's latest love team. I chatted with Bo for a while just before he had his short message for everyone, after which he signed free copies of his books that he gave away. I was fortunate enough to grab a copy each of the two books provided, but Karla wasn't. Having read the first book more than a year ago, I gave it to her instead and had her take my photo holding the second one. 🙂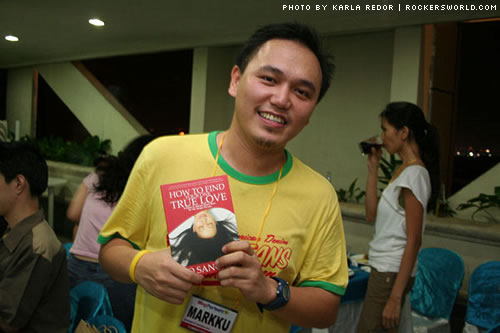 Now that's one happy guy with one nice book. I just scanned page one, though I don't really want to go deep into it until I have a few hours to spare so I can finish it in one sitting, or at least internalize its content somehow.
Before the party got even started, I discussed SEO with Abe and Seoluv who was quite serious about his most recent campaign. Juned was passing by and took some photos, which he continued to do for most of the party with all the cameras he was carrying around.
Elber was joking the party could've been a Canon User Group Philippines Grand EB with all the 350D bodies snapping around. The food was superb and I would've wanted more servings if not for my current obsession with losing weight. Kiven was surprisingly present and we talked with Sasha, Rico, and Jayvee for most of the afternoon. I also had a nice chat with Luis Buenaventura about web 2.0 and PHP and Ruby on Rails, and seeing his observation on the casual conversations during the party, I'm sharing a tip: it's not about the party, but the after–party!
The seemingly non–stop raffle kept everyone moving and talking and by the end of the event, everyone officially hated AJ for winning the iPod Video. That should've been mine! Now the after–party was something, imagine this: 8 hours, three venues, lots of alcohol and coffee, countless packs of cigarettes, and lastly non–stop flow of blogger chika and kwentuhan. Jozzua was the chismis–master and we talked about everything, though sadly not about Aileen and her companion Ian (Hello bai!) for fear of being delisted from Google. 😉 [Eh sinabi mo na eh!]
It was already 3 in the morning when Marc and Gail joined us and things got from warm to hot! Let's just say Noel and Marc were flashing their SEO smiles as Gail broke years of atmospheric purity. Pardon the choice of words, I couldn't find something else to romanticize smoking.
A round of applause for every pinoy blogger and another for our organizers! I can't wait for the next event. 🙂
Edit: just adding this blogparteeh07 tag.