Gail has been teasing me that I'd probably be the last to write about our trip to the 11th International Philippine Hot Air Balloon Fiesta so as not to disappoint, I let everyone blog ahead of me. Believe me! 🙂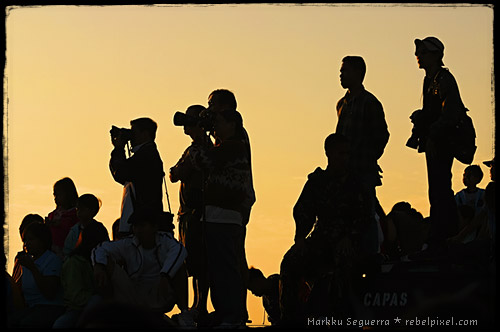 Upon arrival at the airfield, I was overwhelmed by the number of digital SLRs mounted on tripods scattered all over the area. To say 80% of all cameras present were DSLRs is a conservative estimate. I felt like not shooting at all, though having driven that far without sleep, I know I should at least go home with a few keepers. So I started snapping.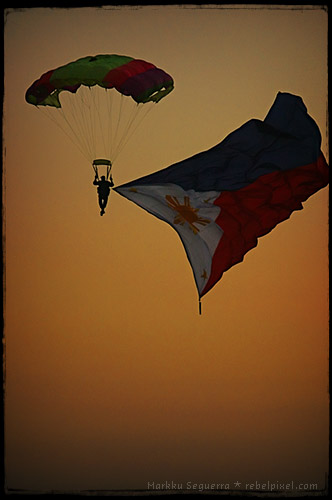 It took some time before the balloons were actually airborne, so I just used the lull to shoot other photographers and spectators.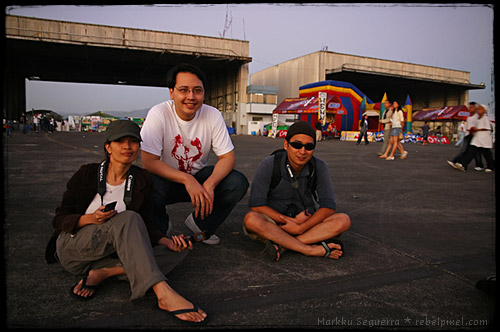 As the sun rose above the horizon, the first few balloons started to fly and move away from the rest of the pack.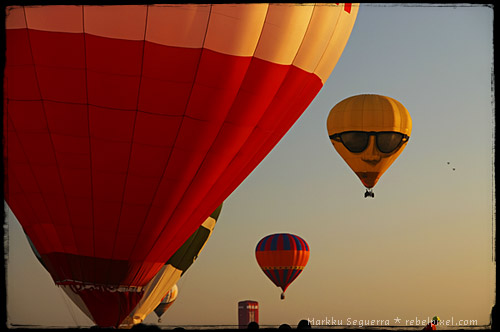 Soon after, everyone was up in the air and the crowd was busy snapping more photos as the hot air balloons flew away.
The whole event wasn't exactly as good as I expected it to be, though I guess it's still nice enough to go to every year. We didn't bother waiting for the afternoon events, Rico was asleep before we were done with our morning shooting and Marc was visibly tired as we had brunch. Abe, on the other hand, still had the energy to drive and (wrongly) lead us around the area looking for the lunch spot Anton suggested.
Jayvee enjoyed his lightsphere so much that he was shooting with it in the open field. 😉 As expected, Sasha was all smiles while gamely posing and shooting with her new 400D. Joey was also busy with his 350D while occasionally posing for us and Gail, though sleepless since the evening before, was still her usual bubbly self. 🙂
The little race on our drive home was fun before traffic began to clog. I was mechanically limited and unable to catch up with Rico and Marc (driving Abe's car) in the open road, though hopefully next year I'll be riding a faster set of wheels. 😉 Next year ulit! By the way, here's my full album of photos from the event and if you're on multiply, you can browse the same set and leave comments.