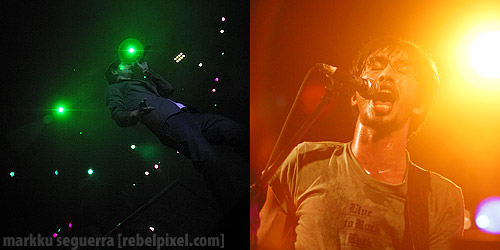 It's now confirmed, Rico Blanco has left Rivermaya.
The news has been buzzing for a few weeks now, though never confirmed until just recently. According to The Dawn's JB Leonor in an email to their official mailing list:
We had a gig in Metrowalk last Friday and Rivermaya was there – they
played before us.

It started out as a rumor. Someone text Kiko something crazy that I
didn't know if I'd believe it or not.

We played in Big Sky Mind after Metrowalk. Kiko didn't ride with me
home. He told me he was going to Metrobar to check out Rivermaya.

Kiko text me when he got there. Confirmed! It's Rivermaya's last
gig!!! They're breaking up!
They're not breaking up, Rico just left. Rico left Rivermaya!
I rarely blog about the local music scene now, okay I rarely blog, but to go back to the topic, Rivermaya is one of the pillars of OPM for the past decade, surpassed only by the now defunct Eraserheads, so this is big news! Rivermaya without Bamboo was news, but Rivermaya without Rico Blanco — is — not Rivermaya. Without any disrespect to the remaining members, the band will never be the way it was without the man behind the music. He played the keyboards, then played the guitar after Perf De Castro left (or was he booted out?), then fronted the band after Bamboo Manalac left. They marched on without Nathan Azarcon, regrouped to capture the label "Ang Banda Ng Bayan" as they produced rock hits that continue to be anthems in the local rock scene.
It's sad to see a legend break apart, but some good things are not meant to last. Remember the Beatles? The Eraserheads? So what happens now?
Heto na ang gabi na ikaw ay aalis
At iiwan mo ako
Sa lahat ng gabi ito ang ayaw dumating
Sana ay umaga na

Tatawagan mo pa rin ba ako
Susulatan mo pa ba ako
Tayo pa rin bang dalawa kahit…

Babye na
Aalis ka na
Babye na rin ba
Sa ating alaala