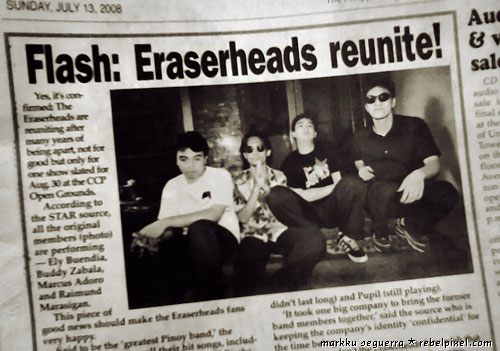 Other bloggers have already written about this though it seems all information are coming from a single source. The clues are giveaways though and the plot almost too good to be true, but everyone's wishing for a miracle anyway: the Eraserheads are reuniting for a concert on August 30, 2008!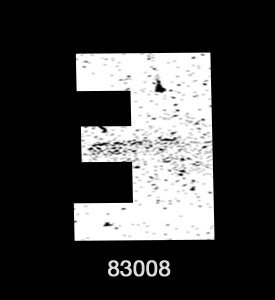 You can't miss it. The teaser graphic posted on gorgoro's entry has the conspicuous letter E drawn backward that only the Eraserheads has used (well, at least popularly) since the early nineties. The clincher is the source's allusion to the band using the codename "David Lynch project," referring to David Lynch's movie "Eraserhead" from which our pop favorite Eraserheads got their name.
The concert is said to be a one–time event, which is just how it should be as each E–head now has his own gig going. And not all fans would want them to stick together for long anyway, they'll end up fighting soon enough. Maybe once–in–a–while concerts or surprise gigs would do, and perhaps a few new songs here and there. Tickets are rumored to be free courtesy of a major sponsor with lots of money to burn, which makes me think it could only be San Miguel Beer. Just a hunch though, but knowing that this year's Oktoberfest officially kicks off in the first week of September makes an E–heads reunion concert the perfect preview to the opener! And if SMB isn't part of this yet, they have a million reasons to start flexing their marketing power.
But it doesn't really matter anyway. It's all about the Eraserheads and their music. Tickets could be priced by the thousands and it will be a sellout still. The people who have been listening to their music a dozen years ago now have the money to go to their concerts; we can now afford the price of nostalgia that we never thought we'd yearn for.
Was it destiny bound to happen?
I wanna go home now
Back to my old hometown
Where I can sing the blues
Let's stop this running around

I miss the people dancing
I'm just saying this
But, baby you can bet your pwet
I'll do it again some time for the money
Combo on the run
But I'm sure this one's not for the money. Now dust off your Chucks and shiny Adidas sports tees, we're goin' to a real rock concert!