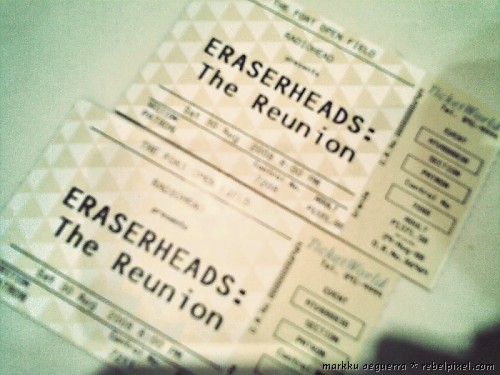 May isang umaga na tayo'y magsasama
Haya at halina sa alapaap
O anong sarap
So it was a promise after all. Alapaap's surreal–sounding opening verse, sometimes omitted in our minds in favor of the upbeat chorus and other verses, was in hindsight an assurance that no matter what, against all odds, there is that one day when we'll all be together, again. And it was 083008.
The Eraserheads reunion concert must've been one of the most awaited events in many people's lives. I've been waiting for so long but never expected it this soon anyway. When I heard about it though, I had to accept it was going to be now.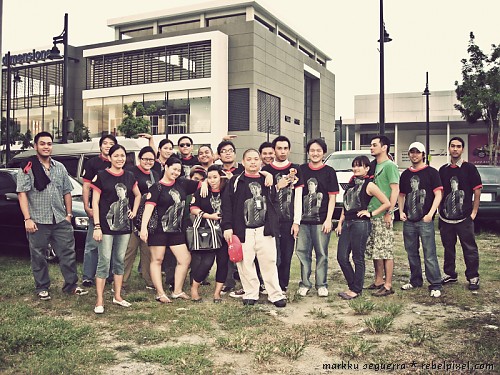 The ensuing drama wouldn't let things stay as simple as they should be though. There was the DOH and tobacco advertising issue that gave Marlboro/Philip Morris lots of free mileage, and then came the sad passing of Ely's mother. When it seemed like it was too good to push through, something else had to come to cast a cloud of doubt on the whole thing. Since ticket details were never clear until just days before Saturday, I was almost resigned to the fact that I might actually miss the first (and probably only) Eraserheads reunion concert.
When I got Juned's message that our friends at San Miguel through Red Horse have some tickets for a few dozen bloggers, it had me believing that maybe I was really destined to see the Eraserheads!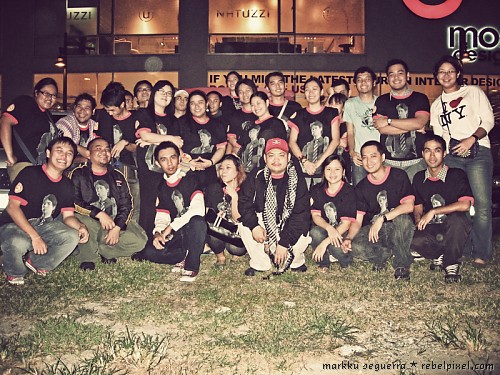 About two hours before the concert, we finally were in our Red Horse–badged Ely Buendia shirts with tickets ready. All we had to worry about now was where to get dinner so we could get in before the crowd thickens like a raging flood. More than 30 bloggers scrambled to grab a bite, rushing around the Bonifacio High Street area. Just a few minutes before 8PM, we were headed for the Patrons' entrance.
Crowd ingress was smooth despite the long queue. Turns out the long lines were mostly due to insistent fans wanting to bring in long–zoom cameras and camcorders just to document this milestone in their lives. I left all my cameras in the car though, I knew they were prohibited and would only make things harder for me. Besides, there was no way I could grab decent shots from our section.
The 10–minute countdown seemed like too much at first, but as it got closer the crowd's energy was just electric. After the short AVP, there was the band, finally, opening with what could possibly be their most popular song Alapaap. As they reached the first chorus, the crowd was jumping to the beat, oblivious to the rest of the world. All that mattered was the music.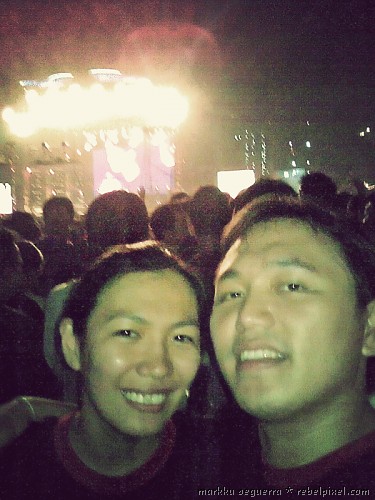 It was only at that point that I felt that all was real, this is the Eraserheads together for a night to remember. Hana was right in front of me singing and trying to record a video on her phone, I was just so happy to have her by my side on that fateful night. And then I remembered Jonas, who's probably the biggest Eraserheads fan I know. I dialed his number, all the way to Dubai . I raised my phone up high just as Ely belted Ang daming bawal sa mundo, sinasakal nila tayo. Buksan ang puso at isipan, paliparin ang kamalayan.
After Alapaap, I could've walked out of there in nirvana. All I needed was one song from the Eraserheads, the music that is the soundtrack of my life.
***
There are a handful of great stories on the web about the Eraserheads reunion concert, here are some you might want to read: