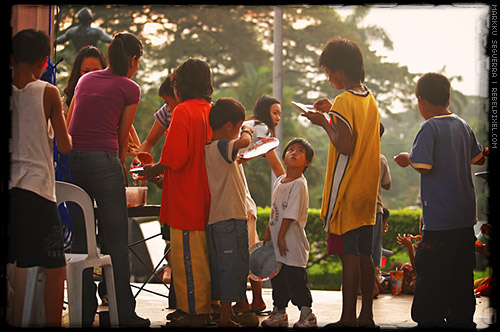 We've done this twice before, and we're doing it again. The Pisay '96 Streetkids Christmas Party was conceived to be a simple celebration — ipadama natin ang Pasko sa mga batang malamang ay wala man lang madadaluhang "Christmas Party" ngayong taon. Kahit sandali lang.
Batchmates, bloggers, random friends, even anonymous souls have pledged their support for this event, and you can help too. Donations may be in cash or in kind, as long as it can be useful to children. You may leave a comment to make a pledge, or may also contact me privately.
The party will be this Saturday (that's tomorrow), December 13, from two to four in the afternoon. We're still working on the details for the venue, but for the past two years we have been doing it around the Quezon Hall area in UP–Diliman. You can't miss it if you know where the Oblation is. Feel free to drop by if you can. Just look for the big group with kids running around managed by a few handfuls of twenty–somethings and young–at–hearts. You can also call me if you can't find us.
Wow, pangatlong taon na pala natin to. Tara, Christmas party na naman ulit. 🙂