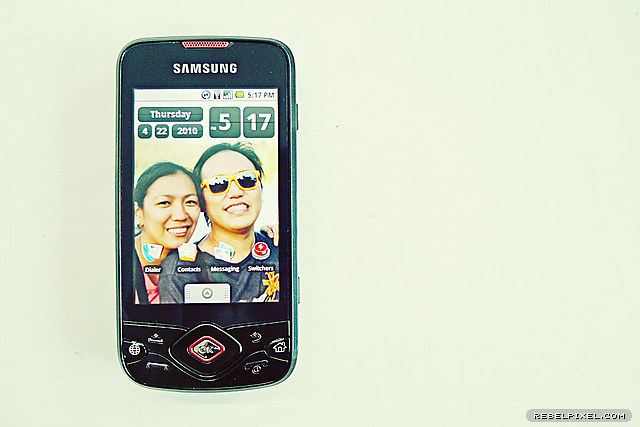 This is the Samsung Galaxy Spica, also known as the GT-I5700, or the Galaxy Lite, depending on what part of the world you're currently in. It's my newest phone, mostly a result of my Nokia N79's refusal to send SMS when I most need to.
I've been not–so–privately salivating at the Google Nexus One since some of my friends got theirs. At $530 USD though, it doesn't come cheap. Having one shipped all the way from the US tops the 30k barrier, hardly a reasonable price for a mobile phone, no matter how good.
I first heard about the Galaxy Spica through one of Globe's newspaper ads, promoting an affordable Android–powered smartphone that can be had for only 14,495 pesos as a prepaid kit. I later learned I could get it for 1,000 a month for 12 months if I'm getting one of their new Globe My Super Plans, a good deal for a phone paired with a good service plan. To my disappointment, it was only for new postpaid subscriptions then.
Since I can no longer wait trying to bear with a phone that magically refuses to send SMS, I went visiting one of those Samsung stalls that seem to sprout in all shopping malls these days. You can't miss them, they're conveniently placed to occupy your field of view. All of it.
I asked about the Galaxy Spica and they said it goes for 16,000 pesos, but it can be had for only 13,700 if I pay cash! It was too tempting, so I went for it!
So you're wondering, how's the Samsung Galaxy Spica? It's a lot of a phone for the money. You get Android 1.5 Cupcake, the Google–backed operating system for mobile phones and portable devices. 1.5 is not the latest version, but it's the most widely used so you're fairly covered. An update to 2.1 is coming too as those in Europe have been getting this same model with the latest Android.
The screen is a 3.2 inch TFT, not as bright nor as colorful as the Nexus One, but nothing to complain about. Unlike the Nexus One, the screen color appears true and not exaggerated. Since Samsung opted to leave it at vanilla Android 1.5, you don't get any unnecessary apps or interface tweaks, making the phone feel snappy even with just an 800Mhz processor and around 180MB of RAM. There's a 3.2 megapixel camera that's robbed of a flash, but usable enough in bright settings. The battery's rated at 1500mAh, a bit better than other moderately–priced smartphones. It can get more than a day of use, but it's the type of battery (and phone) that you charge at night to give uninterrupted power the following day. Unless if you have a girlfriend who loves to play games on your phone, then there may be days your phone shows the low battery warning just before midnight. And because this is an Android phone, you've got lots of games and apps available for you, many of them free!
If you're looking for a smartphone now, get the Samsung Galaxy Spica. 13,700 pesos cash gets you most of the things you need in a mobile phone. Better yet, if you've been putting off going postpaid, now is the best time! Get Globe's Surf–All–You–Can paired with My Super Unli Super Plans and put this phone to good use with unlimited internet and Globe–to–Globe calls. You won't regret getting this phone.