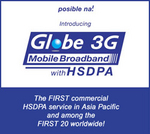 With my problems concerning Smart WiFi's mediocre service, I couldn't resist inquiring about Globe's "3G Mobile with HSDPA."
While passing time at the Podium last Saturday, Anne and I asked about the new service, already anticipating a steep price. We were happily surprised when the Globe Hub agent mentioned that it is currently priced at 2000 pesos a month, with unmetered internet usage. You can also make calls and send SMS, though he didn't explain the plan's free allocations. Unfortunately, it is currently available to corporate accounts only, and no launch date has been set for mass deployment. A demo laptop was available and web page loads were zippy enough, and it should be since their theoretical maximum is set at 1 mbps.
Connection is achieved through a PCMCIA card, so the new MacBook is out of the picture. The card has a SIM module, and through it you can make voice calls and send text messages, aside from the 3G internet connection. Calls are made by using the provided software dialer and connecting a headset, or maybe utilizing the laptop's built–in mic and speakers. The same software is used for sending and receiving SMS.
2000 pesos a month for truly mobile broadband access seems a good deal, considering most 1000 peso offers from PLDT and other providers are unreliable. However, service quality levels could possibly drop once this plan is offered to regular subscribers. A guaranteed downside is the inability to use a router for networking. Internet connection sharing might still be possible, but not as straightforward as a "LAN cable to router" setup. Despite the possible downsides, I just might avail of the service. I'd love to try this one for a test drive.