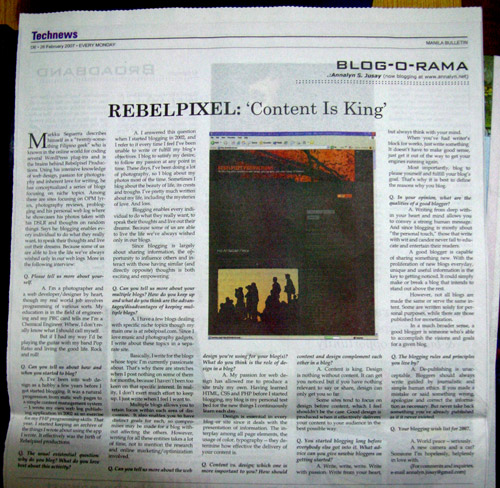 rebelpixel productions was featured on Manila Bulletin's Blog–O–Rama! Finally, after years of blogging and shooting and hacking code, this weblog is getting some mainstream attention, even just for one day. Something like my little 15 minutes of fame.
Ajay interviewed me a few weeks back and it was finally published yesterday. If you have a copy of The Manila Bulletin for February 26, read my interview and indulge my ego for a brief while. (Hehe.) For my readers not in the Philippines, you can read it online or peruse this hi-res image if you want to go through it as printed. Yes, for all three of you.
And since I already began promoting myself, you wouldn't mind a bit more of this, right?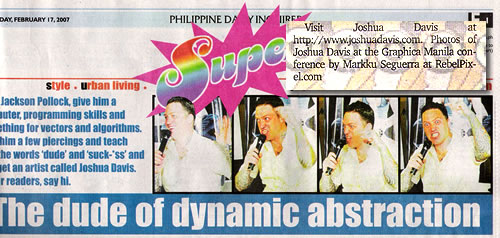 Two Saturdays ago, I finally had a photo I took published on a national daily. On print. The series of photos above were taken during the press conference for last December's Graphika Manila. Luckily, Jayvee invited me to tag along to shoot some pics for the event. And they were published on the Philippine Daily Inquirer's Super section to accompany a story on the great Joshua Davis! Woohoo!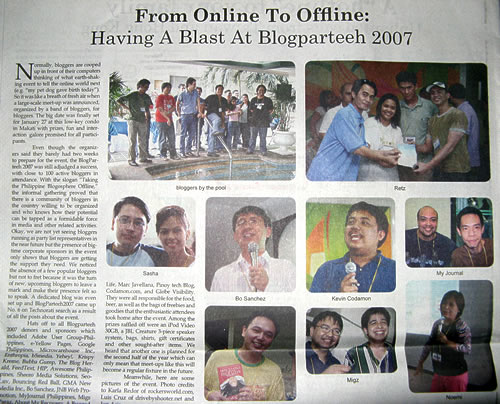 Lastly, I didn't know a photo of me was published on the Manila Bulletin for its story on the Blogparteeh last month. Until Noemi wrote about it. Yes, that's me holding a book on the bottom left photo, taken by Karla, a cropped version of what I posted in this entry.
I never thought I'd get the chance to get published but the past few months has proven me wrong. I guess passion for the things I love is somehow rewarding itself.
My bro txted me yesterday after the reading the Bulletin, quite proud of his Kuya. Hehe. (We'll get that car soon!) My dad messaged me too and bought several copies of yesterday's paper. My mother who's in Cebu right now got a copy for each of my grandpas. Hahaha. Of course my sis was just sound asleep at home. Or watching Grey's Anatomy. Hehe. And my friends at the office were so proud, Mike even posted the article in a bulletin board. Happy times.
I might be away for the next few days. I'm supposed to choose between Boracay, Puerto Galera, and Pangasinan's Hundred Islands. Suddenly, I'm having a hard time choosing from three good things.
Yeah, subliminal suggestions fully intended. Now pardon the melodrama, I couldn't help it after reading my responses to Ajay's interview. And my birthday's less than a week from now.
Anyway, in the end, we all live for the drama.