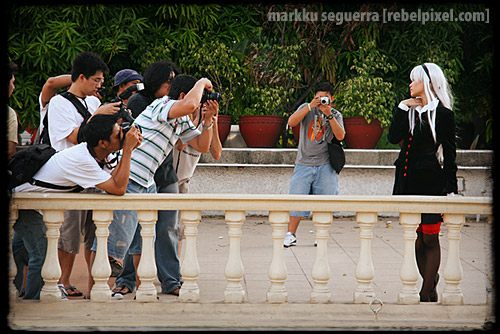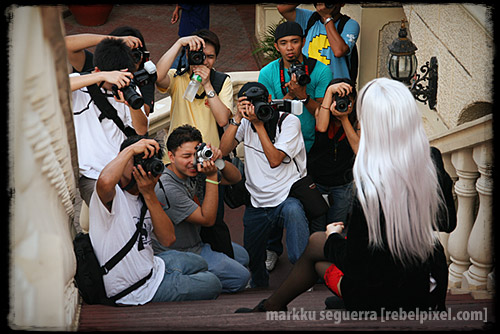 Remember the Intramuros shoot I mentioned last week? What Jayvee thought would be a small group of enthusiasts turned into a mini photo org of sorts, with around 40 people turning up for the event. Fourty!
The tireless Jerry Polence gamely posed for every single photographer, trying to give each one some eye time. Good thing my Pisay batchmate Tubay arrived with a few sets of costumes as well, somehow giving Jerry some time to rest in between costume changes. With all those costumes, makeups, and other things, we now know having a cosplayer for a girlfriend is no joke! Hah!
The photographers came in droves, coming from various photo orgs and online communities that me and Jayvee were wondering how the idea turned itself into a successful idea virus. Joey, Juned, and Eric were very helpful in facilitating the activities and talking with everyone, and the whole group itself was one very nice lot.
I'm sure I'll have a hard time matching all the names with the faces I remember, I couldn't even type the two–page attendance sheet that we almost completely filled! Definitely though, I've met new friends who I'm sure I'll be shooting with again, soon. We have more in store, Jayvee's doing his magic for our next activities. See you all next time. Until then, happy shooting! 🙂