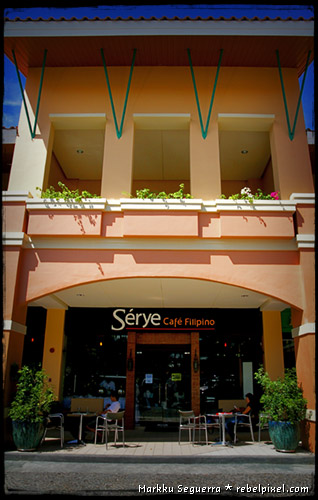 A few months ago, several bloggers attended the food blogging and photography class at the Serye branch inside the Quezon Memorial Circle. Since then, Serye has undergone a subtle re–branding to further emphasize its Filipino roots, to its advantage. Serye is truly Filipino, it being a product of the Reyes clan, surely more known for Aristocrat and several other popular food brands.
The new Serye, now dubbed "Serye Cafe Filipino," puts a bit more emphasis on the cafe side of things. Serving a wide selection of Filipino desserts and coffee, you now have a truly Filipino alternative to the various foreign coffee shop brands that have sprouted like mushrooms all over the Philippines. The good thing about this is that Serye serves just as good or even better desserts and coffee. I know this for a fact since I got to try their new offerings before most of you could get your hands (or mouth?) on them. 😉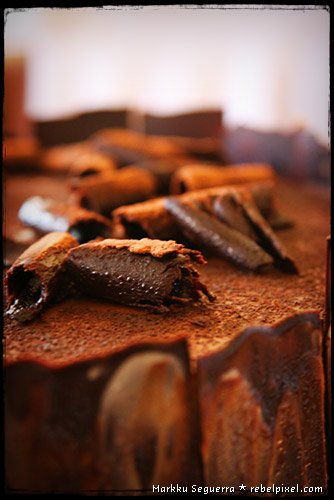 The Mocha Manila cake pictured above complements the Mocha Manila range that includes both hot and cold variants of their Mocha Manila coffee, which I think is more apt to the Filipino's sweet tooth. Unlike most mocha–based coffee, Serye's Mocha Manila uses Davao tablea, the Filipino equivalent of chocolate. We also got to try other mixes like the Yema Latte and Cafe con Sorbetes though Mocha Manila is my personal favorite.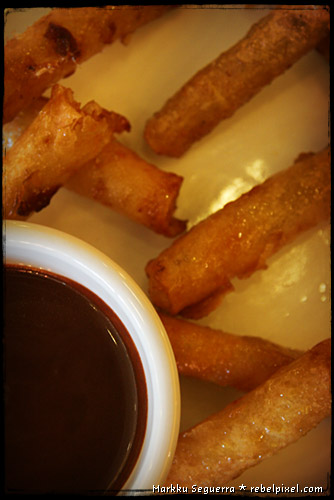 Filipino Fondue with assorted Turon is exactly what its name suggests, native chocolate served with Turon in banana–langka, mango–sago, and buko–pinya variants. Served smaller than your typical turon, it somehow takes away the fun of biting on the thick and crunchy wrapper with bits falling on your shirt, though tastes just as good.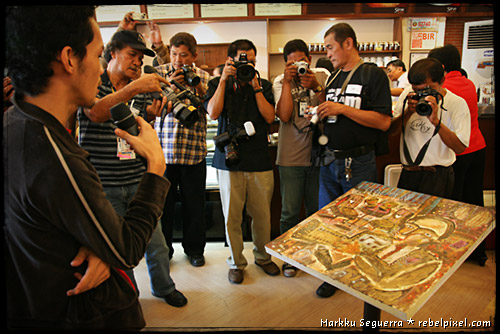 A unique twist to the new Serye Cafe Filipino is their use of table art produced by local artists. By gathering the most promising local artists and have them make unique artworks out of every table, you wouldn't want to be sitting on the same place every time you visit. Now wouldn't it be nice if we photographers also get to exhibit our work on their tables? 😉