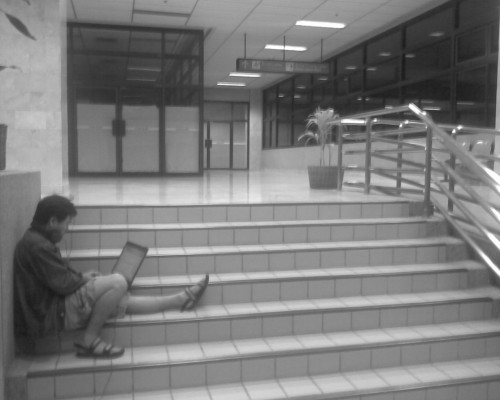 I've been meaning to resurrect my Five on Friday entries since I stopped publishing a few months ago. But as I struggle to keep up with my newfound busy sked, unexpected things happen. I realized, I couldn't keep on waiting for the "right time" — there isn't. At least for a lot of things. So I'm writing this now, no preparations, just straightforward old–school blogging.
I'm on my way back to Manila, with my brother and my dad, waiting for our 5AM flight, on a Friday. Technically, we're still here at Mactan, with a few more hours to go before our flight.

It has been five long days without internet. I brought my laptop with me because I had a web app to finish, and I was only able to go online and upload my work Thursday afternoon, five days since Saturday lunchtime. I'm not really a WiFi–warrior type, I just had to try if Mactan airport has wireless connectivity. But now that I know they have WiFi, I might as well write something. On my blog!

Talisay City, our hometown, isn't exactly that far from Cebu City but still retains a lot of the probinsya feel. Five days of promdi life has taught me how much of an excess city living is, especially in Manila.

Being a mango shake fan (again!) recently, I always tried to buy an extra–large serving of my fave shake. I got to do this a few times since we had to go out and buy supplies for the wake. Interestingly, most Cebuanos would prefer to buy the smallest or at most the regular–sized order. Maybe not entirely conclusive, I guess people in the provinces have a different outlook towards material "wants," things that we classify as "needs" without any reluctance. A few days off a year to reacquaint with our roots and realign our perspectives can only do good.

And it really me took some time to finish that extra–large mango shake.

My Lolo Rodring wasn't religious — I don't recall him telling a Bible story nor lead what we in the Catholic faith practice as church traditions. He just lived life of service, one I'm sure cannot be equaled by most prayerful souls.

He was a policeman. He was Talisay's Chief of Police back in the days when it still wasn't a city, the same period from the past when policemen were honorable gentlemen who took servitude as their vocation, their mission, not just a day job. Later in his life, he was a police at the Bureau of Customs, when the culture of corruption was already humiliatingly unacceptable. He still served like a true honorable policeman.

He was also a Barangay Captain before such municipal positions were heavily sought because of the perks that come with it now. He wasn't paid, but since it wasn't his day job, he was content with the warm feeling of being of service to his kababayans. Calls for help in the middle of the night weren't uncommon, and though sometimes his family questioned such dedication for an unpaid, unheralded public position, his blunt reply couldn't be any simpler — it was his duty.

He was a father — not just to his children, not just to his grandchildren. Our closely knit community meant several families living in close proximity to each other, like one big happy residential compound. But fate wasn't kind to some families, yet he (and my Lola) readily accepted their roles as parents to nieces and nephews and other relatives beyond their children. During our summer vacations in Cebu, dinner meant several batches of people on the dining table — siblings, cousins, friends, even people we hardly know. To say he supported five families under his roof would be putting it humbly, and I'm not boasting.

I was hoping to write a quick Five on Friday entry in under five minutes, but instead decided on writing something I could insert into my all–time top five favorites on this weblog, even if it took me an hour.
So here's another five, on a Friday. Uniquely, each one a "fives" of sorts. It feels good to be back blogging. And working.