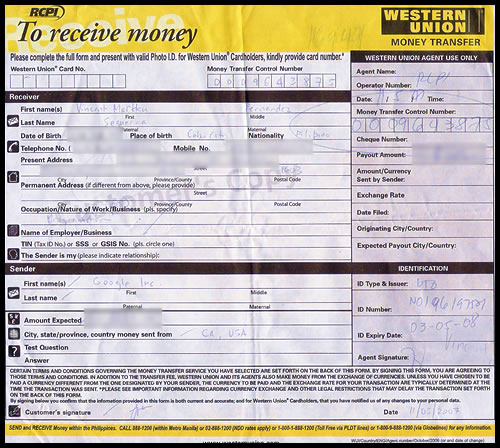 Google AdSense has offered payments through Western Union Quick Cash for some time now, but not for publishers in the Philippines. The day they finally announced the Western Union option for Filipino site–owners, I was more than excited to try it myself.
Around two years ago, I lost my second AdSense check in the mail. It was sent through regular mail, and was stolen and then encashed in faraway Dagupan, Pangasinan. After than incident, I made it my policy to only receive my payments using the secure payment option, sent through DHL. Sadly, it was also a 24 dollar hit for every check sent. By offering payments using Western Union Quick Cash, Google has provided a secure alternative without charge. An early holiday present for pinoy publishers?
With my driver's license and a few other extra ID cards in hand, I went to the RCPI–Western Union branch inside Robinson's Galleria, just near Handyman and Chowking at the ground level. Turns out it was easier than I expected.
I had to fill out a form for receiving money, as well as another information sheet that they kept for record purposes. Since it was quite redundant filling out two forms with the same type of fields, I asked. The second one was for future transactions made with the same branch, and you have to fill out another one if you were to transact with another Western Union partner. I guess I'm going to the same branch for AdSense payments from now on.
Just as Google instructed, I had a government–issued ID with me, my driver's license. But as I guessed, they asked for two valid IDs. I explained I only had one, and showed them the print screen printout of Google's instructions. For good measure, I handed my expired PRC license as well as a few other old IDs. They asked how much I was expecting, and upon my response, they were very friendly and accommodated my transaction without issues. A little chikka can really help, you know…
With AdSense payments through Western Union Quick Cash and online transactions through PayPal Philippines, local online entrepreneurs now have more options for their business. It would be exciting to know what ventures will soon sprout as a result of these developments.