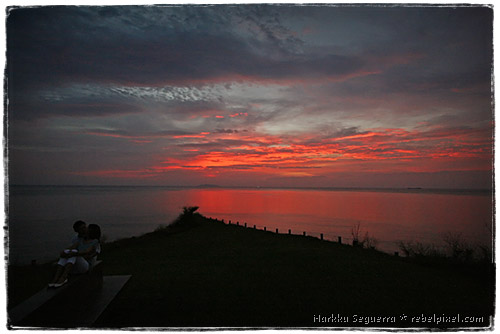 While raising the lightstand for Mimi & Karl as they take engagement photos, I often try to snap a few clicks hoping for a beside–the–scene glimpse at a heartfelt moment slowly (or more often, quickly) unfolding. Sometimes, I get lucky.
Just minutes before the session that produced the photo above, I was trailing Karl as we walked briskly to survey the scene and catch the last light of day when he suddenly stopped — a rainbow, just before the sun completely sleeps under the horizon: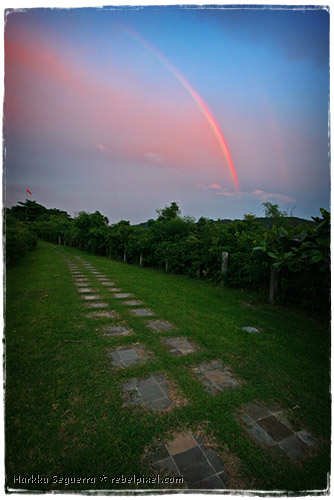 It must've been my lucky day, as the rainbow could only suggest. And with one reasonably blog–worthy photo, I have a reason to believe it.
And then it happened.
As I tried snapping a few more as we got back to the couple's place, my cam greeted me, albeit sadly, with a bright red on grey message: "Error 99." The mother of all Canon digital SLR errors, a signal of bad (and costly) things to come. Karl tried to diagnose the issue, but listening to the shutter, all I could hear was a teasing familiar sound. The sound of a broken shutter mechanism. I'm most likely right, I heard this sound before. This unit's still under warranty coverage so I hope it's fixed soon without having to miss some assignments. The wait isn't gonna be fun but I'll have my backup for the meantime.
You win some, you lose some. I guess I won a photo I like, and a rainbow. But I lost my cam. Hopefully for just a short while though.
I'll be at Canon's service center first thing in the morning, and I pray they get me shooting again in no time.