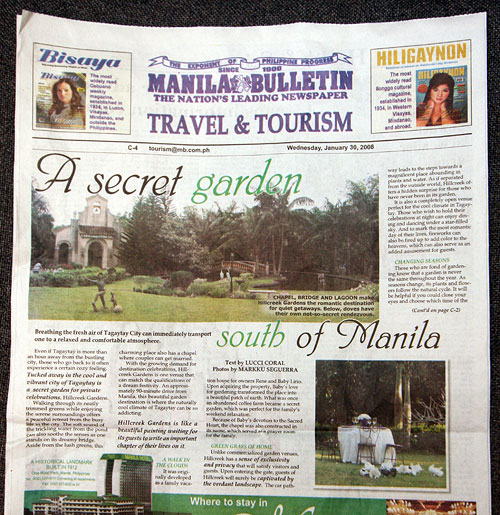 If you have a copy of today's Manila Bulletin, find the Travel & Tourism section and you'll see some photos I took, published on a national daily! Not officially the first, but this one's special since I got to shoot an up and coming place that should be a regular in the long list of great Tagaytay wedding reception venues. Just a few photos shown, I believe they're running a longer feature on this in one of their other publications soon.
A million thanks to Sarah, Kitten, Lucci, and most especially to Marbee for the wonderful opportunity! And of course to Pido who made the setup grander than it already is. I still haven't replied to your message dude, I lost my phone just after I got your txt. Yes we got great photos. 😉
And yes, Hillcreek Gardens is a great place to have your wedding and/or reception. With its owners just recently deciding to open it for the general public, the property is pristine and very cozy with a scenery not yet too laos for use in your photo and video souvenirs. Jason's video of Windie & Taka should give you an idea about this wonderful place.
Don't have today's paper? I took pictures instead. 😉 You can read it all here: page 1, page 2.