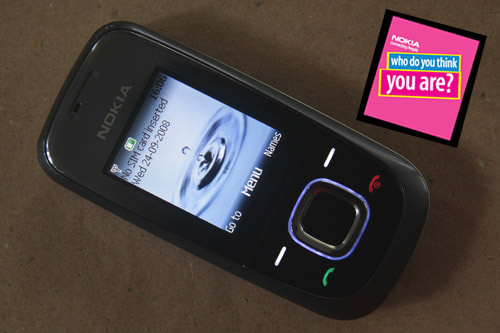 Luck strikes, sometimes. It was supposed to be a lazy day, but since I was invited to Nokia's "Who Do You Think Are?" launch to introduce the 7210 Supernova and the 2680 slide, I had to move my butt quite earlier than usual to get there on time. I felt it was going to be a lucky day, so I went despite the rain.
Here's a secret about Nokia events: you're never supposed to miss them. They give away great prices, and that includes their latest phones! I was lucky enough to win one of two phones that day, the Nokia 2680 slide. It's basically the same as the super–thin 2630 and the classic–looking 2600, but in a slider phone configuration. More importantly, it does not suffer from the reboot issues that plagued some of the earlier 2630 units. Overall, the Nokia 2680 is a basic phone in an attractive package. It was visually appealing that every time I showed it to someone, they couldn't guess it retails for less than 5,000 pesos.
Too bad I'm not a two–phones–in–my–pocket kind of guy.