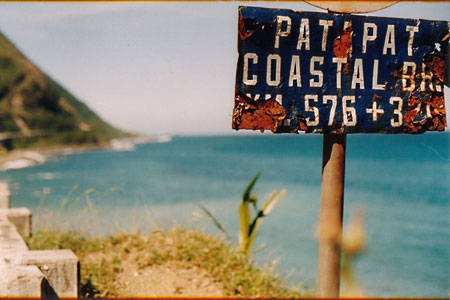 I'm running late as we're leaving for Pangasinan in less than an hour. Yes, this entry's missing my regular Five on Friday post by a few minutes, so this better be good.
So let's talk about dating. Specifically, little date spots you can take your sweetest thing to, on a whim, in the spur of the moment.
Moomba Mother Ignacia St. near Roces Ave.
Jobarclix will kill me for sharing this. Moomba is this nice restaurant/bar at the end of Mother Ignacia Street, almost where it intersects with Roces Avenue. On weekdays, various local indie acts play relaxing music for most of the evening, setting the perfect mood for couples and friends just passing the night away.

It's quite hard to explain, but the ambiance of this place is so perfect for a nice date. The music's not too loud, the food is good — all you need is your perfect company for the night. In fact, this place has a lot of history among our friends that it seems a relationship cannot start without passing the Moomba stage. 😉

Dencio's Ayala Heights, Balara
Now how can a Dencio's branch be romantic? This one's different though: it's on top of a building overlooking the Capitol Hills gold course, where you get a bird's eye view of the posh subdivisions nearby and of course, Marikina Valley. This without driving to Antipolo or Tagaytay.

Chocolate Kiss Bahay ng Alumni, UP–Diliman
This should be a cliche for most UP–Diliman grads, but this place is still fancy enough for a quick dinner. The food is very good, especially their famous cakes! If you're in luck, there are days when a guitar duo plays live classical music, and if luck is raining down on you, a piano–violent duet. Who knows, maybe they could play your (and your partner's) cheesy theme song. And this just within UP, less than an hour's drive from anywhere in Metro Manila.

Starbucks Tagaytay
If you're buying the girl of your dreams a cup of coffee, it might as well be special, right? Take her to Tagaytay! This line still makes me smile: "Coffee naman tayo, sa Starbucks — sa Tagaytay."

Boracay Philippines
You've got to have a lot of madness in your mind to pull this off: pack a backpack of clothes for you and your girl and fly off to Boracay for a getaway weekend! Just sit by the shore and watch the last light of day tell the story of the picturesque Boracay sunset. As night falls and the full moon shines upon the oneness of the two of you, dream the night away.
Now I sound cheesier than queso de bola. It's either I'm sick or I'm in love. Or maybe I just need a good excuse for a late Five on Friday post. I don't know, you tell me. And do share your date ideas, okay?
But wait, we all know it isn't really the place but the company, right? That I'm sure of. Really.