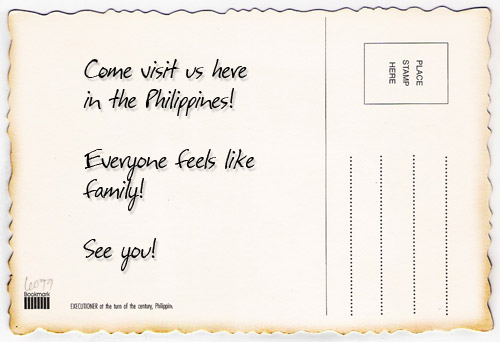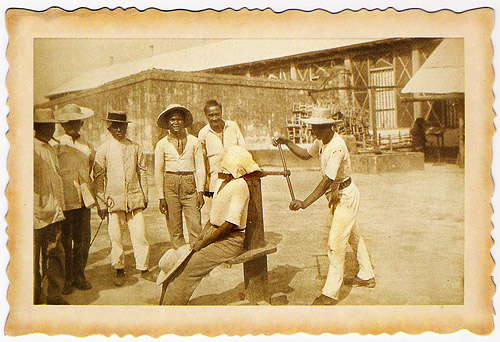 Got this postcard from Juned when we were at his house last Saturday, a somewhat disturbing gag/parody photo of what the Philippines really was, about a hundred years ago. Shouldn't we be thankful for the independence and liberty that we have today?
Sadly, the practice of moving holidays to lengthen weekends and promote domestic spending has dampened our celebration for some of our most important milestones as a nation. Though sometimes beneficial, our June 12 Independence Day shouldn't be among those relegated to become just another extra day for weekend shopping. I guess it's a clear manifestation of how our current leaders respect and value our great history. Sad.
But instead of whining about this, let's have a meme instead! This one's starting from six blogs (here, Juned's, Joey's, Jayvee's, Gail's, Marc's), let's see where it takes us. So here's how it works:
Download the scanned front (@800px, @500px) and back (@800px, @500px) of this postcard and resize to fit your blog.
Put some sense into this very old postcard by adding some text. It can be serious, it can be funny. Anything goes!
Title of the entry should be Only in the Philippines!
Share the love and tag five other proud Filipinos.
So I'm tagging: Diong, Karla, Anton, Mic, and BryMac. While you're at it, why don't you do a "who tagged who" tree? Just so we could see how many generations this meme could hold. Multi–level marketing? Just a thought though, not a requirement. 😉
Happy Independence Day!