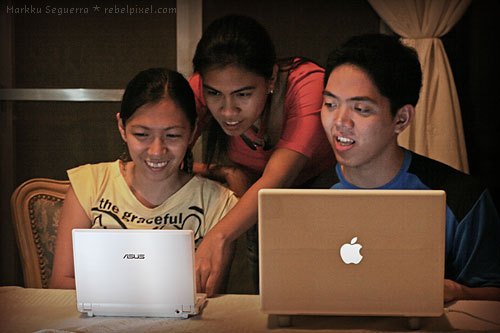 Though I've always wanted to buy a MacBook, it was hard to resist getting an Asus Eee PC considering its relatively low price. Since I have another laptop, the Eee's supposed to fit well into my system: a primary laptop for photo editing and heavy work, with the Eee for mobile computing and simple show–and–tell stuff.
I've been loving the Eee, but I'm not sure if life's any better juggling two computers. Interestingly, I've been doing most of my recent coding tasks on the Eee instead of the more ergonomic, bigger laptop. Go figure.
As an aside, there is an ongoing Asus Eee PC design contest called "dress mEee up" which aims to find a winning design for a custom Philippine edition model. The winner gets to have the design used in the market, and gets one Eee PC with the winning design. Even if you don't have an Eee, you can join the contest. This is your chance to get yourself your own Eee PC!
Another aside, Asus Eee PC Hacks is a new blog I'm running, to help you get the most out of your Eee PC. And then there's mobile! which is another (older) blog on laptops and mobile devices, but also getting hits related to the Asus Eee PC.
So is the Eee PC a good buy? Get one if you can find one. It's on the small side, but it lets you do things you couldn't do with a desktop or a laptop. It wouldn't be easy using it as your primary computer though. For 20 thousand pesos (or less) though, it's a good mobile device.