(Embedded slideshow below)
[embeddoc url="http://rebelpixel.com/wp-content/uploads/2008/09/wordcamp-plugins.ppt" viewer="microsoft"]
I did tell you I was slated to speak at WordCamp Philippines last week, right? I'm not so sure if I managed to expound on my topic acceptably, but hopefully I gave fellow WordPress users an idea on how to approach the task of coding your own WordPress plugin. If in doubt, you can always refer to the "Writing a Plugin" article at the Codex, it was so good I used it as the outline for my discussion. I embedded my slides above, just in case you want to look at it. It's up on slideshare if you wanna grab it or share it with other WordPress bloggers.
I demoed a plugin I call Strip! which allows you to remove/hide links from a given comment. Unlike similar plugins, you can undo this action at any time. I was supposed to make this plugin available earlier in the week but had to do other things, good thing Drew came looking for it so I had enough reason not to forget it. And for good measure, Jayvee has been playing with it since Monday and it seems to work good enough for him.
Now what is the use of the Strip! plugin? I occasionally receive gratuitous comments from readers that though they try to respond to the discussion for a given post, they still (desperately!) promote and link to totally unrelated material for no apparent reason, except for you–know–that–now–but–I–won't–tell–you. Some may have completely relevant comments but provide spammy and made–for–AdSense type of sites for their homepage. You can simply delete or mark these comments as spam, but sometimes they are still integral to the discussion. So you just strip out all links for that comment, but leaving just the text and its context. Maybe you'd like to give it a try?
Hana took many photos during the conference but I haven't gone through them just yet, but I'm sharing you just two for now: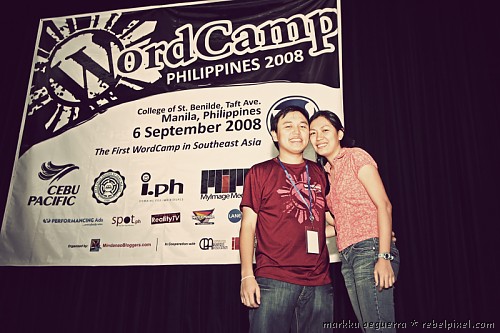 I believe AJ took that photo of us. Now here's another photo, this time I'm with Matt Mullenweg, the WordPress man himself!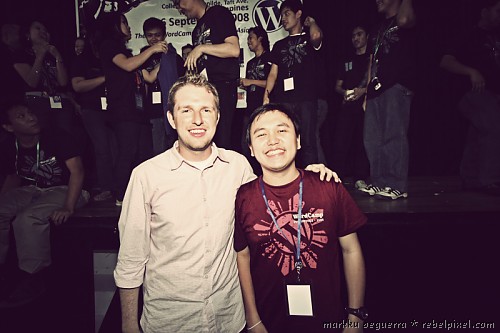 I was very happy when I spoke to Matt and heard him say that he remembers this site for being one of the best–designed weblogs back in the early days of WordPress. Yep, the early days, when the plugins and themes features of WordPress were still to be conceptualized, the time when we still called blogs as weblogs. It was really nice to meet you and have you here in the Philippines Matt, we look forward to your next visit! 🙂
I'll be uploading the rest of the photos soon and of course, a few more stories to share.